BRING A DIGITAL EXPERIENCE TO YOUR LOCATIONS WITH OUR INTERACTIVE DISPLAY SYSTEMS
You need a relevant, interactive and memorable experience in your locations to pull customers away from the ever-present electronic device in their hands and engage with your offerings. Our interactive display systems make this possible, offering a simple way to execute complex marketing and connect your brand to customers with relevant, local information in your location.  READ MORE >
At Vya, we understand your local marketing challenges. We understand that what you really need is a system that simplifies a complicated process – one that makes it easy to deliver a level of autonomy to local markets while maintaining corporate oversight; one that provides engaging, relevant and effective marketing materials and resources with the necessary support to encourage adoption and use in local markets.
That's why we have built an intuitive, truly integrated marketing resource management tool backed by a powerful team of people. We are dedicated to working closely with your team to understand your unique needs and processes. Then, we take that knowledge and understanding to deliver a system that simplifies your workflow, creates efficiencies and drives consistency across all of your localized marketing efforts.
Please take a moment to learn more about each of our marketing resource management systems below, and how our team is dedicated to creating order and simplicity in a space that is filled with complication.
Marketing Resource Systems - Description
National brands that rely on local sales teams to connect with consumers can face many challenges. They need to provide sales channel tools to implement local marketing campaigns while maintaining control of messaging and streamlining marketing workflow. Reaching this balance is easy with an effective and easy-to-use marketing resource system.
Our system helps brands connect with local consumers, empowers local sales teams, streamlines marketing operations, and much more.
Manage assets in one portal
Templates, logos, copy, designs, and other assets are easy to access in our web-based portal. Local sales teams can browse templates and easily find the materials they need to reach local audiences.
Personalized templates go farther in local markets
Give local sales teams the ability to easily update and customize appropriate fields in pre-loaded templates. They can personalize contact information, demographics, life stage and much more on postcards, posters, signage, and other templates available in the system. Launching effective, engaging and relevant co-branded campaigns is simple with our MRM systems, as well. Work closely with local sales team to create campaigns that will catch consumers' attention, and implement efficiently across multiple platforms. Electronic, automated approvals make ensuring brand consistency and compliance simple.
Increase local marketing activity with easy access and easy implementation
Local sales channels want to sell product. Give them what they need to reach audiences. Turnkey marketing campaigns, marketing calendar, training, resources, and seamless customization and implementation helps local teams easily push your messages out to market, increasing brand awareness and sales.
Streamline local marketing workflow
Make it easy to fulfill local marketing requests and support local sales teams. Marketing resource systems help automate complex or redundant tasks, like approvals, so you can focus your time on strategic, big-picture initiatives.
See a clear picture of what's working
Vya makes it easy to track and monitor the details and results of your campaigns. In addition to a robust list of standard reports that help you track key performance measures and prove ROI of each campaign, we also offer the ability to design custom reports that provide top line overview or deep dive documentation into exactly what is driving the best results today and over time.
Supporting you, and helping you reach your marketing goals
At Vya, we believe technology should take away complexity, not add to it. That's why we fully stand behind and support all our systems and solutions. We offer regular training to help users understand the system, how it works, and what it can accomplish. We teach sales teams how to access campaigns and implement them. And our team is always available to answer questions. We even host the technology, so your IT doesn't need to allocate resources or training to run the software we've created for you.
Interested in learning more? Please contact us today at 800.426.7921 or sales@vyasystems.com to learn more about our local marketing solutions, systems and print services, or request a free demo of our systems. Our online resources are also available for immediate download, and offer simple tips to streamline local marketing efforts and execute with excellence.
Local Marketing Budget Management - Description
Managing local marketing budgets – from co-op to market development funds (MDF); advisory council budgets to target market funds – can be a complex task. Vya's local marketing budget management system can help you streamline and manage the process, making sure your sales channels get the funds they need and you can manage the process easily and efficiently.
Simplify local marketing budget management
Assign, track, review, and approve budgets all in one place. Our easy-to-use portal makes it simple to manage funds across markets, and encourages local sales teams to use available funds. Partners, distributors and local sales can easily request approval, submit claims and share best practices on what's working in their region.
Easily evaluate what's working in local markets
Our local marketing budget system gives corporate, regional or district managers a clear view of what sales teams are spending and what's working across regions. Vya's local marketing budget management system offers:
Detailed view of funds by individual users

Breakdown of funds by marketing channel

A clear view of what's been spent, and what's left to spend

Ability to transfer funds from one partner to another
Vya's local marketing budget systems are easy to use, and supported by our dedicated staff.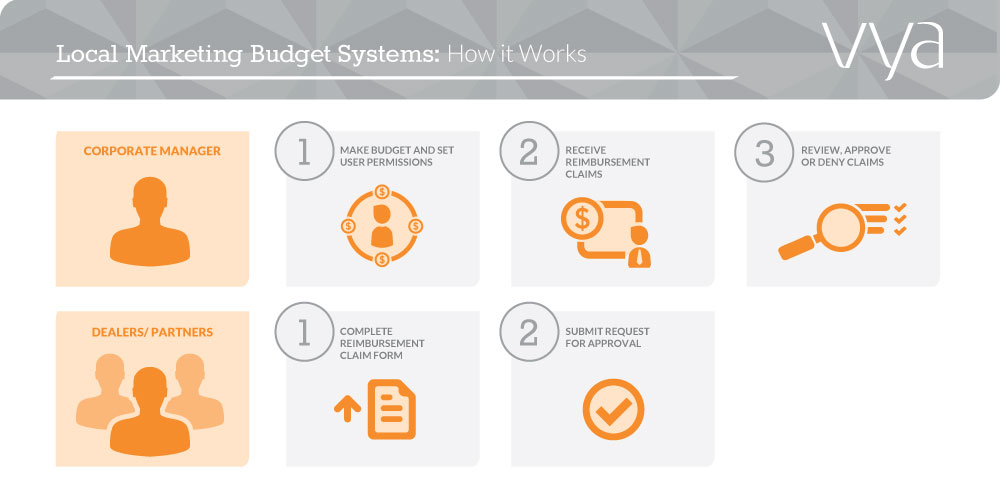 Creative Production Management - Description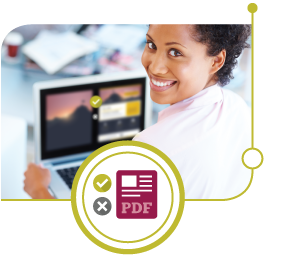 Focus on the creative process, not the workflow
Our creative production systems helps seamlessly route and track job status, hours, review and approval of designs all from a single platform.
With Vya's creative production systems you can:
Save time by consolidating project communication
Bring structure and continuity to the creative process
Simplify management oversight
Better manage your cost-per-project
Better enforce version control of marketing resources
Store approval records to meet compliance & legal requirements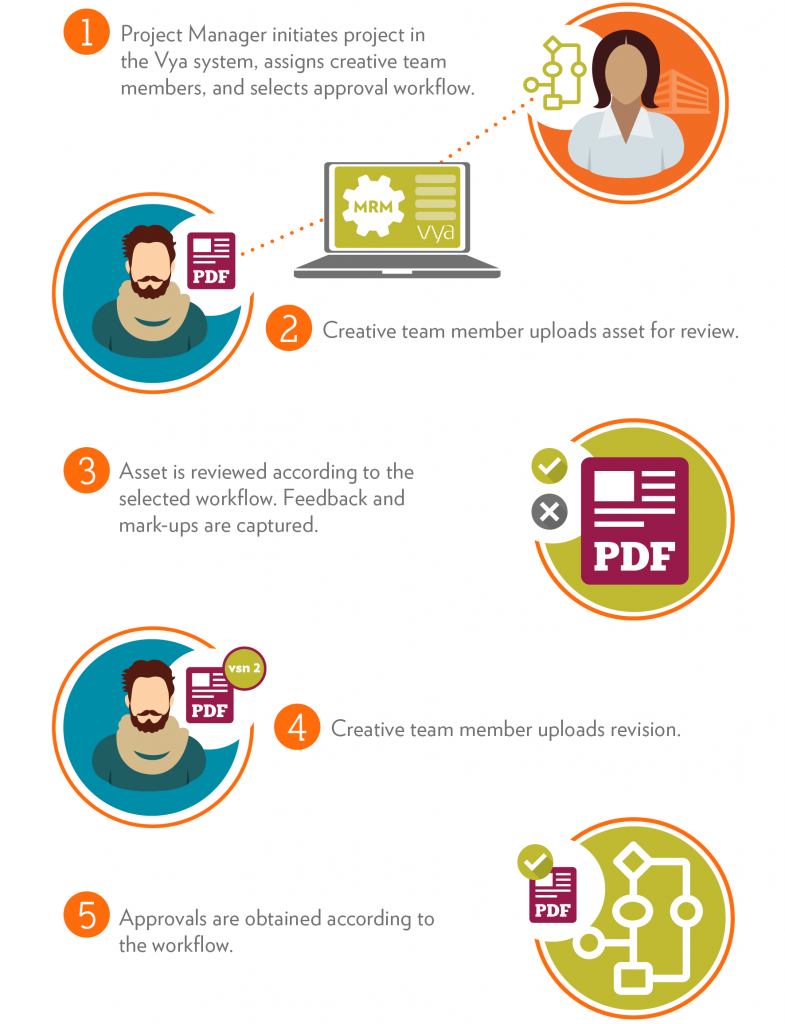 Ad Systems - Description
Vya's ad systems combine ad resizing services and ad distribution automation to effectively manage requests from local associates.

With our ad systems, you can:

Reduce turn-around time for ad resizing
Redeploy talented creative resources to higher-value projects
Build a central repository of ads in varying sizes.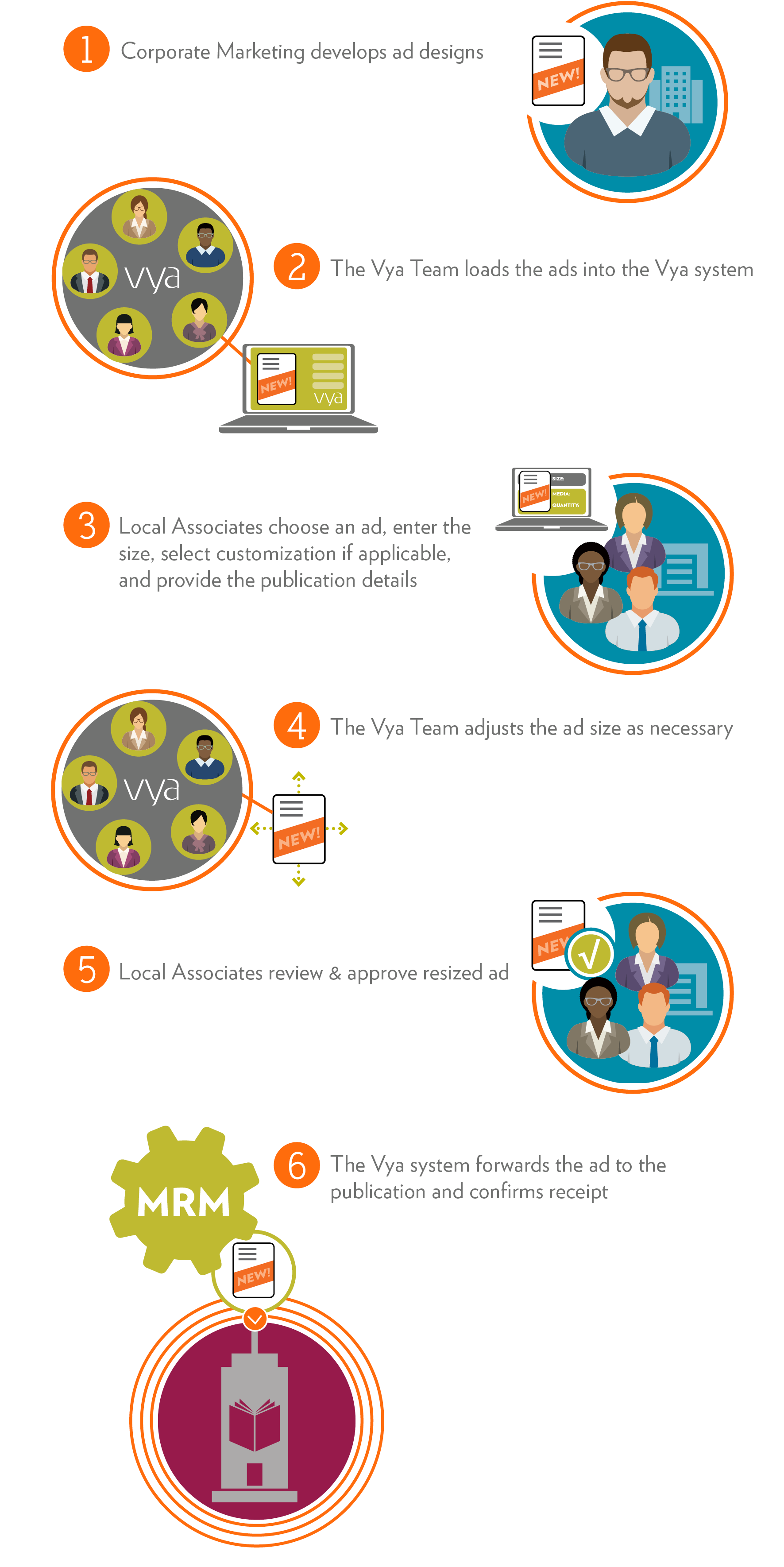 Request Management - Description
Vya request systems automate the process of collecting, approving, processing, and tracking requests from local associates. The solution is extremely flexible and can be applied to a variety of field request scenarios. In addition, corporate policy review and acknowledgement can be built into the request workflow.

With Vya request systems you can manage field requests for:

Sponsorships
Memberships
Reimbursements
Logos
Advertising
Co-branding
And much more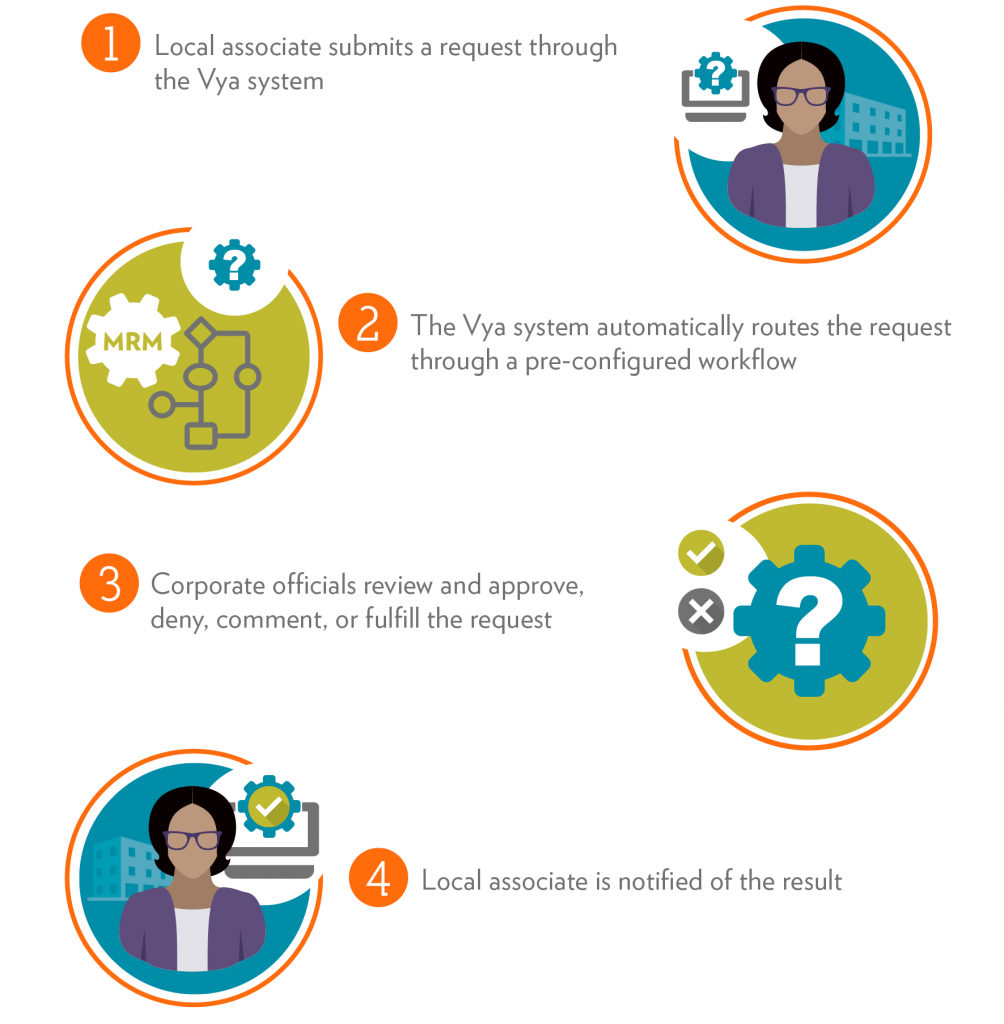 Social Media - Description
Boost brand awareness with easy-to-execute social media content
Empower local sales teams and employees to be your biggest brand ambassador. Vya's social media is a social content platform that solves the challenges corporations face in localizing social media communications through their distributed marketing and sales teams. Give your most powerful sales resources – employees and sales channels – the tools they need to properly build and customize posts, messaging and imagery on social channels. Easily load pre-approved posts for easy and compliant distribution across Facebook, Twitter and LinkedIn.
With Vya's social media, you can:
Ensure and enforce brand consistency across all departments

Engage employees in distributing company message on social media

Enable social media messaging at the local level

Help employees who don't know what to say about the company on social media

Automate content approval process to ensure regulatory compliance

Aggregrate reporting across social media accounts
How it works
Our team is dedicated to delivering simplified solutions that work. Our social media systems make it easy for local and corporate teams to connect with consumers, and share relevant and engaging information across select, social media platforms.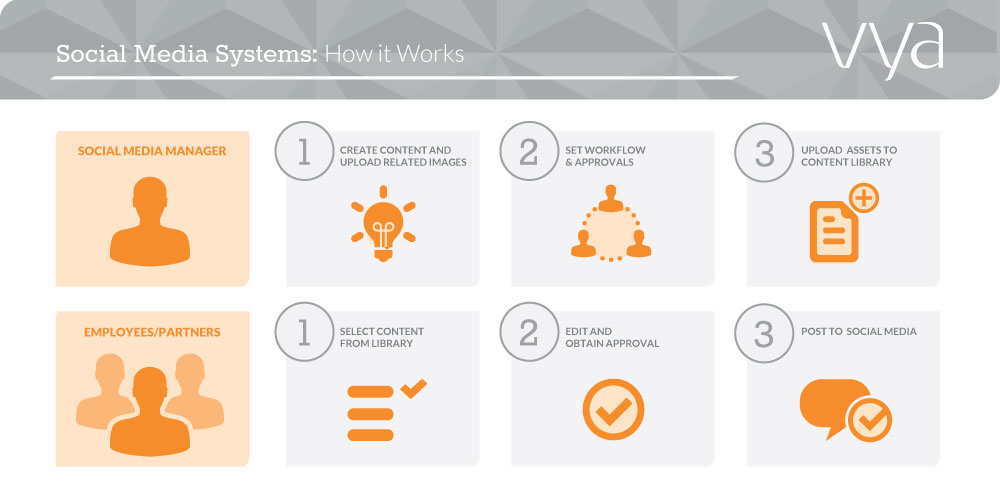 Data Management Systems - Description
Delivering data, and the confidence you need, to connect with consumers and effectively evaluate campaigns
Quality data is the backbone of all local marketing campaigns. It must be clean, complete, compliant and easily analyzed to assess campaign impact and performance. That's why, at Vya, we are committed to always delivering usable, effective data that companies can truly use. When you rely on our teams to distribute campaigns via mail or email, we work hard to make sure your distribution list is accurate. Our systems scrub lists, complete fields, check against compliance regulations - removing opt-out names and ensuring requirements like CASL, and others are met.
Our teams can also completely manage your data to ensure you are reaching the audiences you need. We take care of the details - from managing adds, removals, list updates to building strategic, custom dashboards that track campaigns. Detailed analytics available through dashboards delivers a clear picture of what's working, and what's not. Gain a better understanding of what customer segments are responding to your campaigns, and apply that feedback to future campaigns for stronger reach and impact.
Our data management services include, but are not limited to:
List purchasing

Contact touch report detailing customers, frequency and platforms

Opt-out management

Cleaning, matching, de-duping records and fields

Appending data

Address standardization

Unique identifiers

Location mapping

Demographic targeting

Analysis
Email - Description
Reach local audiences with customized email campaigns
Easily share messages and news on local events, sales and messaging with Vya's simplified email. One powerful tool gives you the ability to manage, automate and customize your entire email-based marketing programs with a few keystrokes. Whether it is a weekly email blast to your entire email list, multi-draft campaigns to specific segments or fully automated email responses, Vya email systems can help create more consistency and better management of this critical marketing channel.
Best of all, Vya's simplified email is built for localization, giving your local marketing teams an intuitive interface and easy-to-use tools to customize messaging, selected targeted email lists, even access pre-populated content to personalize messages by location, region or audience.
You can easily upload templates, or have the Vya team create and load digital templates for virtually any ongoing email marketing program, such as e-newsletters, promotions, loyalty campaigns, drip campaigns, events, sales, and more.
Vya can also help you handle full email distribution, including cleaning up data lists and ensuring all compliance regulations, such as CASL, are met.
Surveys & Invites - Description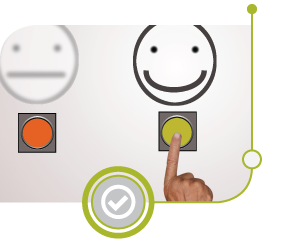 Vya's survey & invite management systems enable corporate marketing departments to facilitate local event invitations and customer surveys. Local branches, agents, and sales teams can customize approved invitation or survey templates to easily gather and track responses from their customers and prospects.
Unlike the patchwork of customer feedback tools being used individually in local markets today, Vya's solution allows corporate marketing and regional field staff to easily review the data collected in local markets. Analysis can uncover opportunities for targeted coaching and performance improvement in individual markets. Additionally, the data gathered can reveal best practices that can be shared across markets to create cascading success.
With Vya's survey & invite management systems you can:
Provide templated customer surveys and event invitations to local representatives for customization and distribution.

Ensure consistent and compliant branding of local customer surveys and event invitations.

Gather customer response data transparently enabling targeted local performance coaching.

Get a clear view into local market performance while also uncovering trends across markets.

Create a full range of question field formats.

Conduct keyword analysis on free-form text fields.
Our survey & invite management systems integrate with Vya's marketing resource management software — a complete ecosystem for consistent and compliant local marketing and customer communication.
Interactive Display Systems - Description
Interactive displays that are powered by Vya give you an unparalleled opportunity to connect to your customer with personalized, localized content, which means you'll offer an immersive in-store digital experience that builds engagement and creates sales.
Using familiar touchscreen technology on flat-panel displays, interactive display systems bring your message to life for your consumers and offer an enhanced in-person experience.
Maximize the power of displays by giving your customers more information, more choices and compelling product insights, all while capturing data to optimize content.
Vya's interactive display systems:
Bring localized interactive marketing content to any place, and at any time.

Integrate with your existing Vya MRM system to provide a new channel for existing content, video and design.

Offer a single, centralized location for all types of digital assets.

Give your customer key information at the point of decision.

Offer a more powerful, engaging brand experience.
Vya's interactive displays will revolutionize the way your customers buy, search and experience your brand in any location.
As part of our marketing resource management system, Vya provides a complete ecosystem for your content to be managed, scheduled and pushed out to any media including print, email, social and interactive displays.
Interested in learning more? Please contact us today at 800.426.7921 or sales@vyasystems.com to learn more about our local marketing solutions, systems and print services, or request a free demo of our systems. Our online resources are also available for immediate download, and offer simple tips to streamline local marketing efforts and execute with excellence.
Vya's Solutions